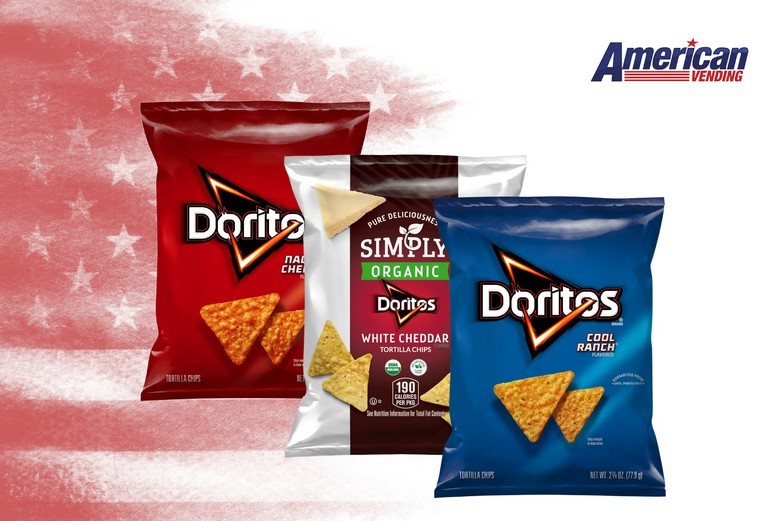 Snack vending machines have become a part of our everyday lives, and for good reason! They provide easy and quick access to tasty snacks. But the key to a successful vending machine is the snacks it offers. In Metro Detroit, where people have different snacking preferences, it's vital to stock your machine with flavors that everyone will love. By making sure your office vending machine has the best snacks, you can make snacking a truly great experience for every employee. Therefore, it's a must to provide delicious flavors that cater to diverse tastes in your office break room.
One snack that everyone loves? Doritos! So, here are some of the best Doritos flavor options to put in your Detroit break room.
Cool Ranch: A Classic Twist
Cool Ranch Doritos have always been a favorite among many people. In fact, 46% of folks voted Cool Ranch as the most popular flavor! These chips have a zesty and tangy taste that's different from the usual nacho cheese flavor. They're perfectly seasoned with a mix of spices and herbs, making them a classic and refreshing choice. Whether you want a snack during the day or when you're done with work, Cool Ranch Doritos are always a reliable option.
Spicy Nacho Chips: A Fiery Delight in Snack Vending Machines
If you love a spicy kick, then Spicy Nacho Doritos are perfect for you. These chips have a bold nacho cheese flavor with just the right amount of spiciness. They create an exciting snacking experience that can spice up your lunch break. For those who like a bit of heat, Spicy Nacho Doritos are a tasty choice.
Spicy Sweet Chili: A Fusion of Flavors
Spicy Sweet Chili Doritos offer a unique blend of sweet and spicy flavors that adventurous snackers will enjoy. The tangy chili combined with a hint of sweetness creates an irresistible taste that keeps you coming back for more. Whether you need a quick energy boost during a busy workday or a bold snack to take home for a weekend adventure, Spicy Sweet Chili Doritos deliver a satisfying fusion of flavors.
Flamin' Hot Limon: Intense and Tangy
If you're a fan of intense flavors, you've got to try Flamin' Hot Limon Doritos. These chips combine the fiery heat of Flamin' Hot with a tangy twist of lime, creating a burst of bold and exciting tastes. Whether you want a snack while working or need something bold for a well-deserved snack break, Flamin' Hot Limon Doritos are sure to satisfy even the bravest taste buds.
Salsa Verde: A Zesty and Vibrant Addition to Snack Vending Machines
Salsa Verde Doritos have a vibrant and zesty taste that sets them apart. The combination of tangy tomatillo, a hint of jalapeño, and a burst of spices creates a snacking experience that's both unique and satisfying. Whether you want to add some excitement to your lunch or enjoy a zingy snack during a road trip, Salsa Verde Doritos will give you a memorable flavor experience.
Add the Right Doritos to Your Metro Detroit Snack Vending Machines
By offering new and fun Doritos flavors, you can be sure that your office vending machine will have snacks that all employees will love. And by working with American Vending, you can know that you'll get the best service and a wide range of vending machine snacks. So, elevate your break room experience by choosing American Vending as your premier Detroit vending services provider.
Contact American Vending at (248) 935-1844 or info@americanvendingllc.com for more information about our Detroit micro-market, office coffee, office pantry, snack vending, and other break room services. We look forward to working with you!