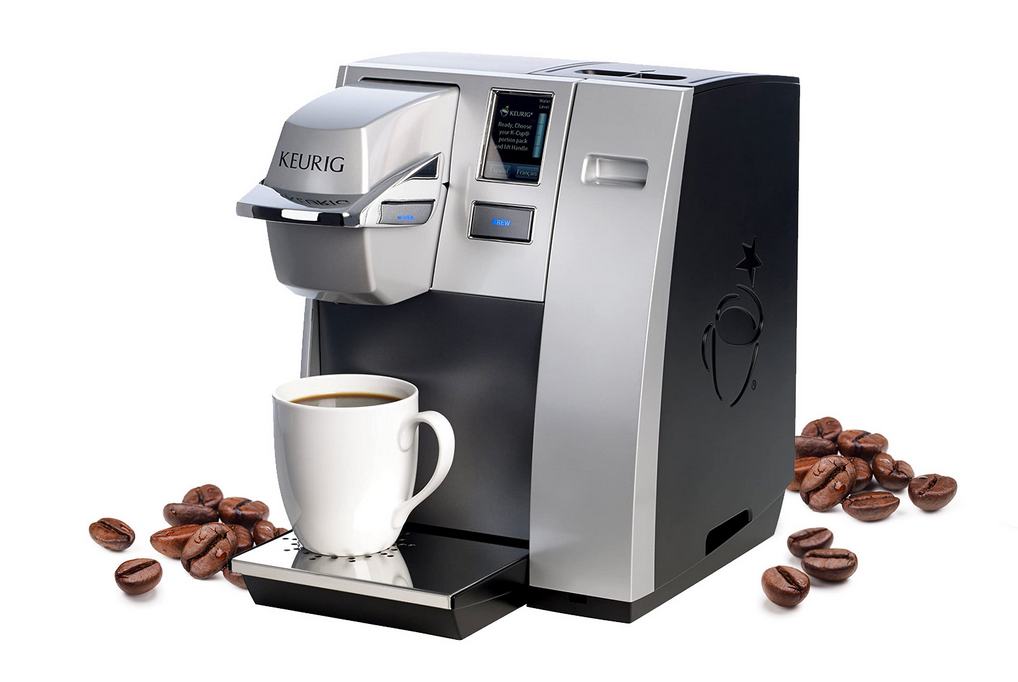 Mornings matter, especially on busy work days! So, help your employees start the day right with an excellent office coffee service in Warren. If you want to add a new coffee maker to your break room or upgrade your current one, the Keurig might be the best option for you. The Keurig coffee maker allows employees to customize their own individual cups and brew cafe-quality coffee right in the office. It's easy to clean, multifunctional, and compact, making it easy to incorporate it into your break room.
At American Vending, we'll help you find the best office coffee products for your needs and budget, from fresh flavors to convenient coffee supplies. We'll help create an office coffee service employees love by restocking and servicing machines. We do the work for you, so you don't have to worry about it!
A Keurig is a foolproof option for high-quality break rooms in Warren. Here are the top reasons to add one to your office refreshment solutions.
Employees can customize their cup of coffee every morning
With a variety of brands and flavors, employees can choose which blend they want. Therefore, the Keurig will give them a fresh and delicious cup of coffee that fits their tastes. The best part? They can try out new flavors and drink options daily. This helps keep your Warren office coffee service fun and fresh. Plus, American Vending stocks sugar, creamer, stir sticks, and more, making it easy for employees to craft each cup exactly to their liking. A Keurig is an excellent addition to any Warren micro-markets, as it gives employees even more beverage vending options.
Keurig delivers cafe quality coffee
Brew a better cup of coffee right in the office with Keurig's single-cup coffee machine technology. Your team is going to love it! Here's why: employees will have access to coffee right in the break room without having to sacrifice quality. They'll no longer have to rush to the coffee shop to buy an overpriced latte. As a result, this saves hardworking employees time and money. It's a win-win!
A Keurig machine is easy to clean
Nobody wants a messy break room! Thanks to the innovative design of a Keurig coffee maker, you can throw away the coffee pod and go on with your day. There's no need to mess with coffee grounds, as everything is neatly packaged into a disposable cup. Plus, the machine is easy to wipe down and the drip tray is simple to wash in just a few minutes.
Use a Keurig for coffee and tea
A Keurig isn't just for coffee! In fact, it can also be used to make a tasty cup of tea. This is perfect for those non-coffee drinkers or for anyone who wants a soothing afternoon beverage option. Provide your employees with a wide range of tea flavors to choose from in your Warren break room, so everyone can brew a beverage they'll enjoy. It's a simple yet effective way to increase overall employee satisfaction, as they'll appreciate the variety of break room options.
It's compact and saves counter space
Small but mighty, Keurig machines are perfect for Warren break rooms with limited counter space. Since it only brews one cup at a time, the compact coffee maker doesn't require a lot of extra bells and whistles to function. Just pop it on the counter, put the pod in, and voila!
Upgrade your Warren coffee service with a Keruig today!
Give employees amazing break room services they'll love, starting with the best coffee options! Contact American Vending at (248) 935-1844 or info@americanvendingllc.com for more information about our micro-market, office coffee, office pantry, or snack vending. We look forward to working with you!